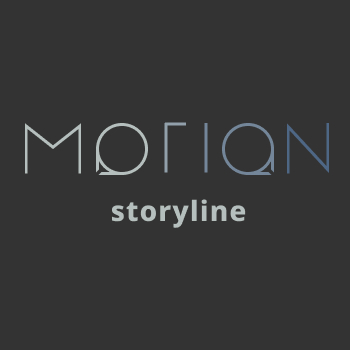 Motion Storyline can be confusing at first on how all the pieces are connected in the capabilities of generating documents and how they all tie together. The core of Motion Storyline is generating static sites, but also it is (as the name suggests) an way of generating animations. Static sites are not only a way to host a high performance focused animation (not only can animations be a fraction of the size of compressed video without artifacts, but moving forward will in some ways become superior in the capabilities of displaying motion graphics - see TensorFlow example).
See / say
A very important concept in advertising art direction is see / say - in other words, you can show a picture of a monkey and write 'This is a monkey' in large text over the picture, but you did not really add anything or any synergy to your display ad. However if your text read 'This is your brain before using our memory training app' you have the text and the imagery playing off each other. Motion Storyline uses generated content as a placeholder or tracks for direction, and so therefore it is going to default to 'saying' the same thing in different formats - so likely your animation would say the same thing as your static page representing the same information. Summarizing (bullet points) may be useful - or in some cases it may be appropriate to duplicate content - for example your landing page selling point might be the same exact messaging as a social media video. The messaging has been carefully thought out and does not need altering. However, an explainer video embedded in a web page section would pull from the same content as what the page section is about, and create a see / say effect. Most likely this can work as is when the information is summarized and you want to create a hierarchy of allowing a visitor to the page to have a more exciting bullet point summary of the content presented to them as an animation, and then they can decide if they want to read through the content. This draws a parallel to writing blog content in the format of:
Saying what you are going to talk about (summarized points)
Saying it
Recapping what you said
Which is a common pattern seen in many variations across web content. Using a different format (animation) is just a different and more exciting way to accomplish the same thing for the same reasons.
See / say is not at all a new concept, and has a science of how to address it correctly we all know of even if we aren't aware of it. An example would be giving a PowerPoint assisted presentation. Instead of writing the exact words, we would just put bulleted points and then talk in a less structured way. Using Motion Storyline in this way with this mental framework will product the best results - for example you can generate bullet points of your presentation which will play as text animation 'interstitials' and transition to youtube style content where you literally talk in a less structures way about the topics. Another variation is to do this as audio only.
Getting started
The easiest and simplest way to get started with Motion Storyline is to create a simple animation and embed it on your site like a YouTube or Vimeo video. If you have ever used Wordpress, you will see a number of familiar similarities - once you are logged in you have some text boxes and titles to fill in and you can upload and select images to go along with your topic. Export it as an animation and open the wrapper HTML file and you will see the embedded version. Click the 'share' button and embed code will pop up just like on your favorite social video sharing platform, and you paste the code into you existing web page - it will work in a familiar way. All the performance benefits are baked in and work automatically - only necessary compressed video is included and your starter animation may not even have any. The file size will likely be drastically reduced, and no compression artifacts will be present.