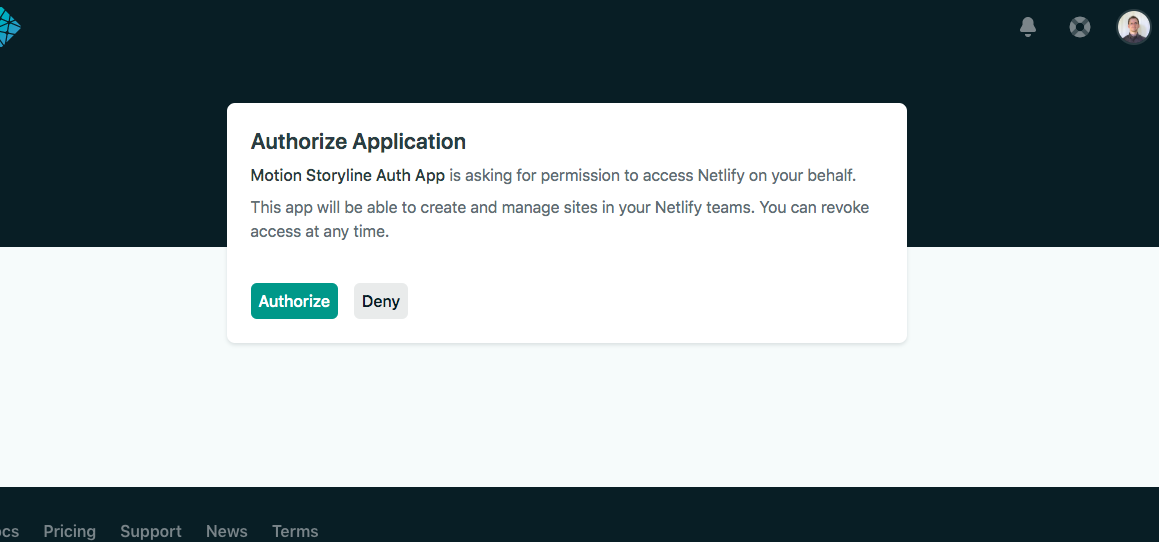 Motion Storyline utilizes a pipeline relying on
Netlify
to provide state of the art, best in class static hosting. Site performance along with edge caching and multiple other benefits you get hosting a static site on Netlify provide some of the features Motion Storyline relies upon for SEO and mobile use. Although you can export projects out of Motion Storyline and self host or use the hosting provider of your choice, we highly recommend using Netlify for this reason.
Getting set up
The first step in the process of getting set up is to go to netlify.com and create an account. As soon as your account is confirmed via e-mail, you will need to go to your settings page and register an OAuth app. Follow the link to find the settings page:
https://app.netlify.com/applications
At the top of the page you should see a heading called OAuth applications
.
Click the button 'New OAuth app'.
Now enter:


https://motionstoryline.com/app/deploy/


as the Redirect URI for your new app.
You should now have a new Netlify Auth App you can click on to reveal details.
Copy the Client ID of your new application and enter this into the form field on
https://motionstoryline.com/app/deploy/
and click the Enter button.
Authorize
Click the Authorize with Netlify button.


View and Create sites
A list of your Netlify sites should generate. If you do not have any, or would like to create a new site for Motion Storyline deployments, click the Create New Site button. Motion Storyline does not have the capability of deleting any of your Netlify sites and you will have to do this manually if you desire. Motion Storyline can deploy over an existing site, and if you do this by accident and wish to restore your website to it's previous state, simply re-deploy from your last publish in the build tab within Netlify. Everything Motion Storyline can do is non destructive.